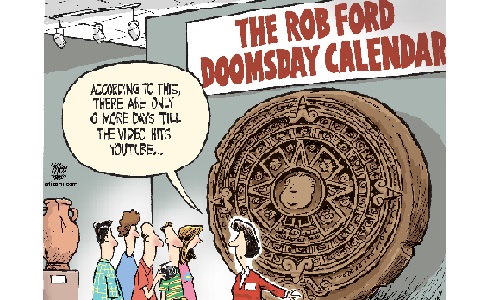 This week, Kristine D'Arbelles and Julia Kent talk about the PR chaos surrounding the mayor of Toronto, Canada's largest city, Rob Ford.
We explore the controversial drug videos and press conferences, to the puzzling amount of Rob Ford supporters. We ask ourselves, who is running his PR strategy and what is their plan?
Then we play Julia's favourite game: what would be your advice if you worked for Rob Ford. And Julia's only rule was that you cannot say "I Quit".
A nice recap of the situation was nicely captured by Bill Walker, general manager of the PR firm Fleishman-Hillard's Toronto office, in a CBC article:
"It just continues to be one of the most unconventional and mind-boggling communications strategies that I've ever seen in my life," says Bill Walker, general manager of the PR firm Fleishman-Hillard's Toronto office.

"I don't know how in one day you go from your brother demanding that the police chief resign, to you admitting that you smoked crack cocaine, and you calling a press conference where everybody thought you were going to resign and then, instead, announcing that you are going to run again in the next election for mayor — and you're not leaving.

"It just indicates complete chaos to me."
We want to heat from you. Have you been following the Rob Ford story? What do you think of his strategy? What kind of advice would you give him in a time of crisis like this? You can post your comment below or on our Facebook Page, or on our Google+ page, or in our LinkedIn group, or on Pinterest, or send us an email at youngprpros@gmail.com, or send us a message on Twitter @youngprpros, @kristinedarbell or @kentjulia.