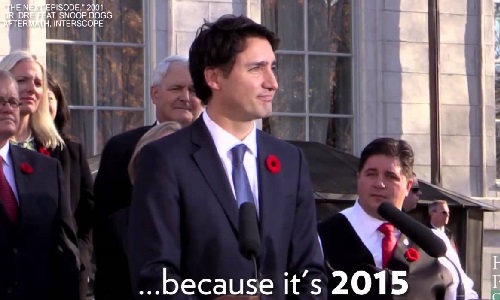 For the first time in Canadian history, a Prime Minister appointed a caucus that was 50 per cent female and 50 per cent male. When asked why he chose to make this bold statement he respond: because it is 2015.
This moment of history prompted the hosts of Young PR Pros, Kristine D'Arbelles, Julia Kent and Ross Simmonds, to discuss gender and ethnic equality in the work place.
We start the conversation with analyzing the current landscape. Ross says the best way to get more women in managing roles is to hire more women managers. These women become role models and create generations of aspiring women managers. Julia agreed, but warned about the dangers of filing quotas – i.e. hiring based on gender and not merit.
We then chat about pay equality, which is a hot topic in world news. Ross suggests we should be open and transparent about pay. Organizations should share with all their employees what everyone makes, it doesn't have to be tied to an individual, but to a title or level in the organizations. This empowers employees to ask for a fair wage. Kristine notes that young professionals don't always have the skills to negotiate pay, yet they should. She suggest doing research and using tools to figure out a fair wage.
Here are a few tools:
Have you asked for a raise? What was your experience? Would you feel weird if you got a job because your race or ethnicity over your qualifications?
Share your opinions by writing a comment below, or on our Facebook Page, or on our Google+ page, or send us an email at youngprpros@gmail.com, or send us a message on Twitter @youngprpros, @kristinedarbell, @kentjulia, or @thecoolestcool