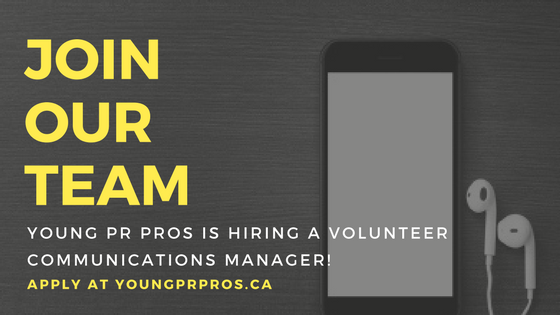 Young PR Pros is a podcast for the young and young-at-heart public relations, communications and marketing professional looking to build and advance their careers. The podcast is hosted by Kristine D'Arbelles, Julia Kent and Ross Simmonds, and produced by Clare Bonnyman.
Young PR Pros strives to keep content exciting, relevant and informative. We are on the hunt for a communications manager. Our podcast is free for listeners, so we are looking for an eager volunteer who wants to add a kick-ass opportunity to their resume.
We have been internationally syndicated for more than a year, which tripled the size of our audience. The podcast receives between 500 and 1,000 downloads per episode, with more than 30,000 downloads since its launch.
The experience you will gain from this awesome opportunity includes, but is not limited to:
Managing Young PR Pros social media presence on Twitter and Facebook. We are also exploring SnapChat and Instagram as potential tools we can use to connect with our audience.
Writing blog posts for the Young PR Pros website.
Assisting in coming up with new and exciting ideas for future episodes.
Assisting in the creation of a content calendar and social media content database.
Working with three awesome hosts and an amazing producer who love to talk about all things communications, public relations, social media, marketing, and sometimes politics and the latest celebrity gossip.
If you are camera/mic shy, don't worry, this position doesn't require you to be on air. However, there may be opportunities from time to time to join in the conversation on episodes if you are up for it.
Please send a short blurb about yourself to youngprpros@gmail.com, before April 28, 2017. Be creative!