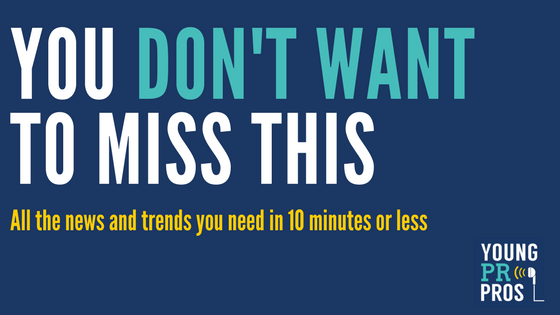 Hey podcast listeners! It is Stefani Morgan, a communications manager for Young PR Pros. If you're anything like me, you find it hard to keep up with the news and trends in our industry. We are just inundated with so much content, it is hard to cut through the noise and concentrate our very few precious minutes on something that is worth while. Never fear, Young PR Pros is here to help.
To help you stay up to date with the ever-evolving communications and public relations profession, we have started a new series for you called You don't want to miss this. Every Wednesday, we will feature five articles you should check.
If you can spare a few minutes during your day, I promise that all five of these articles are worth a read. And, if you only have time for one, you can't go wrong with any of them. Each article has interesting tips or insights for not only communications and public relations professionals, but also for any career path you have chosen or will choose in the future.