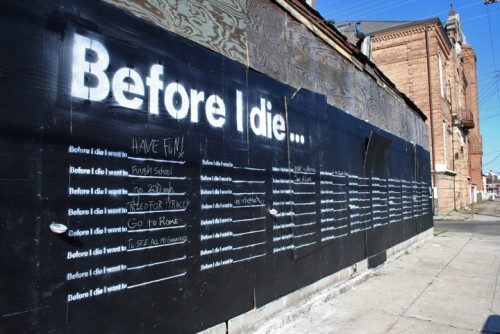 Picture curteousy of Neatorama
The meme continues today.
It started with Jayme Soulati, then with Gini Dietrich and then with Michèle Simpson. I also saw Jason Konopinski and Hajra Kvetches share their list.
So, in no particular order, here are the 20 things I want to do before I die:
Start up a non-profit organization
Start up my own company
Become a CEO
Backpack across Europe
Have kids
Complete an ironman, preferably the one in Hawaii
Tour Niagara on the lake, preferably on my bike
See the Great Wall of China
Climb a big mountain, either Mount Everest or Mount Kilimanjaro
Open up my own bakery or antique shop
Write a book
Get a PhD
Teach at the university or college level
Complete the Camino de Santiago
Travel to Africa
See the pyramids in Egypt
Re-learn Chinese by travelling to Beijing
Learn a fifth language (I already speak English, French, Spanish and very beginner Chinese)
Get married to my sweet heart (we are almost there)
What about you? What do you want to do before you die?