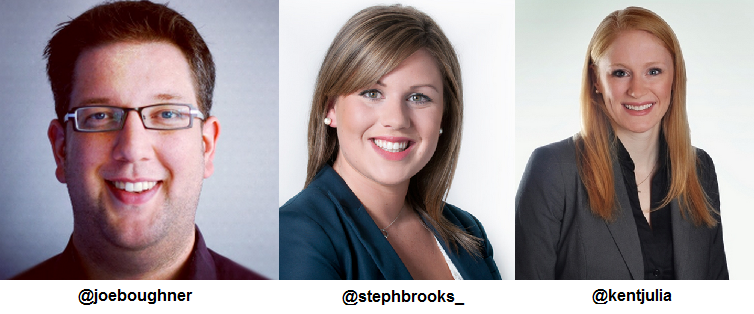 This week, Kristine Simpson and Julia Kent recap the events of a panel Julia was involved in for fourth year journalism students, at Carleton University, interested in going in to the field of communications.
The panel is meant to bring in young professionals that have succeeded at securing a permanent job in communications. Julia, a graduate of the Carleton University journalism program, was joined by Stephanie Brooks, national communications specialist for the Canadian Manufacturers & Exporters, and Joe Boughner, a digital strategist at Non-Linear Creations; both very intelligent and successful people in the industry of communications.
Kristine and Julia recap some highlights from the panel, drawing attention to some really good advice given by the panelists:
Stephanie reminds young professionals to network often, including your parents' friends and your friends' parents, they are an easy group to start networking with because you already know them.
Stephanie also suggests you buy a domain name and create a professional email address that you can use when applying for jobs, for example: kristine@kristinesimpson.ca (note: this email does not exist).
Julia, Stephanie and Joe rattle off a long list of great websites young professionals can use to search for jobs in Ottawa.
Joe tells young professionals to be proactive when volunteering. Find a not-for-profit you are interested in, and call them up and offer your services for free. Don't wait for them to come to you, they are too busy to search for help.
But, we just scratch the surface of some of the great tips and advice shared during the panel. You can listen to the entire panel here. Please note the audio is 44 minutes long, so, pour yourself a cup of tea, sit down with a pen and paper and take notes. There are a lot of great tips.
Click here to listen to the panel discussion
And, because our lovely hosts love to talk, Kristine and Julia also end up going off on a tangent and talking about the role of a degree when searching for a job. Does it really matter? Can you get a job with just a degree?
We would love to hear from you. Share your opinion or ideas by leaving a comment below or on our Facebook Page, or on our Google+ page, or in our LinkedIn group, or send us an email at youngprpros@gmail.com, or send us a message on Twitter @youngprpros, @kristinesimpson or @kentjulia.