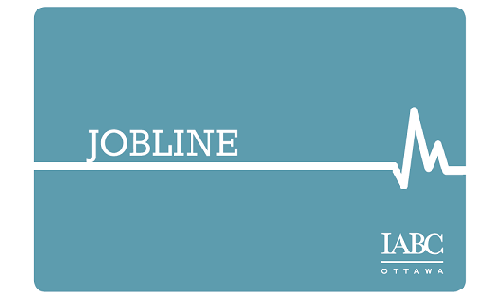 This week, Kristine Simpson and Julia Kent add another episode in the bank of our Who to Follow series, where we profile young and young at heart PR professionals that deserve your follow on Twitter.
Today's profile is not of an individual person, but of a hashtag called #Jobline. Jobline is a highly targeted and effective job advertising service for Communications and Marketing professionals in Ottawa. The positions posted can include opportunities in communications, marketing, public relations, government and media relations, writing, editing and translation services, and more.
The hashtag #Jobline, created by IABC Ottawa – more specifically, Kristine, who also happens to be the Director of Jobline – is more than just tweets of job openings in Ottawa, it also has links to résumé building articles and interview tips. In fact, Young PR Pros tweets have been featured with the #Jobline hashtag before.
While Young PR Pros looks at the PR and communications industry as a whole from the eyes and ears of the young and young at heart professionals, following #Jobline will get you access to articles and tips on the hard skills of PR and communications.
Here are a few examples of #Jobline tweets:
Tweets about "#jobline "

We want to hear from you. Who do you think should be profiled as part of our next Who to Follow episode? Post your comment below or on our Facebook Page, or on our Google+ page, or in our LinkedIn group, or on Pinterest, or send us an email at youngprpros@gmail.com, or send us a message on Twitter @youngprpros, @kristinesimpson or @kentjulia.