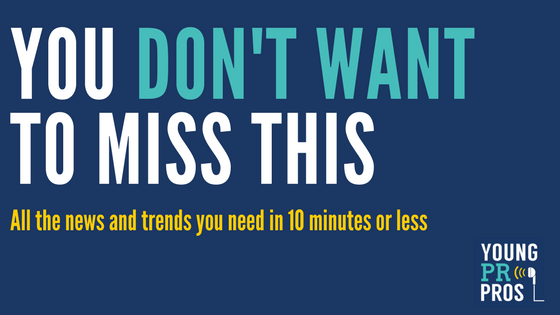 Hey podcast listeners! Welcome to another edition of You don't want to miss this. Every Wednesday, we will feature five articles we think are worth the read in order to keep up with the news and trends in our industry.
This week's theme is social media and digital tools. For most of us, checking our social media platforms is just a regular part of our daily routine. Whether it is to keep up with the news, connect with friends, or for business purposes, social media and digital tools are omnipresent in today's society. The following articles dive into the world of social media and talk about the tools you can use to your advantage in the Communications and/or PR profession.
1. Staying on to of trends
The first step to impressing your friends, your coworkers, or your boss is staying up to date on the latest digital tools. These tools can be helpful for connectivity, organization, research, and so much more. Check out the article 10 digital tools recommended by social media pros and be the one in the room that people turn to for tips on the recent social media and digital crazes.
2. Being creative on Instagram
I think it safe to say that most of us have hopped on the Instagram bandwagon since it was first launched in 2010. It is a fun and intuitive social media platform for individuals and companies alike that want to promote their personal brand or style. With added features, such as the Instagram Story, there are lots of opportunities to be creative. For anyone in the comms/PR world this could be another way to reach a target audience. Give this article, 28 Ways To Reach Peak Creativity On Instagram Stories, a read in order to reach maximum creativity levels.
3. Using stats to build you campaigns
This article, How to Create Successful User-Generated Content Campaigns, highlights important statistics, such as "about 40 percent of the global population uses social media." As a comms/PR pro (or aspiring pro) you may have hunted around for stats to use to justify an idea for a campaign. Lucky for you, there are some important answers in this article that will help to create the best possible user-generated campaigns via social media.
4. The benefits of images on social media
The saying goes "a picture is worth a thousand words," and this is no different if the image is on social media. People are visual and their eye is usually drawn to an interesting image way before reading any text. As a communicator, it is important to keep this in mind to keep your audience engaged and entertained. Here are 5 reasons to add images to social media.
5. the advantages of using social media
The relevant and timely article, The Role and Influence of Social Media on the Modern PR Industry, explores the advantage of utilizing social media platforms to convey their story effectively. This article is a great resource for those of you looking to understand how these digital tools can benefit your own, or your company's, brand.
That's all for this week listeners. Thanks for checking out our series! I highly recommend reading at least one of these articles, as well as giving our latest podcast episode How the Next Generation Can Fix Fake News a listen. I guarantee you will learn something new!
Have a great rest of the week!
Stefani