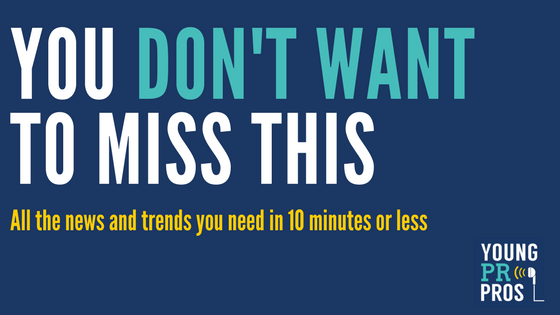 Welcome back podcast listeners! We hope all of you had a great holiday season and a happy New Years.
Speaking of New Years, January is often the month when people set new goals. With January almost over, we thought we would share some articles that would help you stay on track to accomplishing those resolutions and goals.
In the first 2018 edition of You don't want to miss this, each article offers advice on helping you work toward your goals. Not every suggestion or tip may relate to you, but the themes in these articles are likely to be relevant to your personal life and work life.
1. It's as easy as thinking up a resolution
Although the statistics show that more than half of New Year's resolutions fail, you do not have to be another person that contributes to that stat. How to Make (and Keep) a New Year's Resolution is an article that lays out the basics for coming up with an attainable resolution, acting on it, and completing it! You can be the one to defy the odds and join the small number of individuals that actually follow-through on their New Year's goal.
2. 2018 – The Year of Civility
"By its dictionary definition, civility means politeness and courtesy, and is related to orderly behaviour by citizens". With all that is happening in the world today, civility across the globe may seem like a pipe dream. Yet, we all have the power to create change – it only takes one person to spark a trend or a movement. According to this article Time is up: Let's make 2018 the Year of Civility this year we should all aim for to be more civil.
3. Add humour (and GIFs) to your New Year's resolutions
It's 2018 – everyone enjoys using GIFs these days. Why not get creative and make your 2018 resolutions from these fun, animated pictures and cartoons? The article New Year's Resolutions To Try And Keep In 2018 – Explained In GIFs And Pics puts a modern and humorous twist on explaining some popular resolutions.
4. Have a little faith and trust yourself
New Year, new you right? I'm sure we can all admit that 2017 was rough, from politics to iconic celebrities passing away, the world went through a lot last year. Perhaps you personally did too, and that has you doubting whether or not 2018 will be any better. Well, My 2018 resolution? No more self-doubt is an article meant to assure you that your New Year's resolutions are within your control and if you have faith, you can conquer just about anything!
5. It's not cheating if you use someone else's resolution
Trust us, we understand that life is busy. Sometimes there just isn't enough time to sit down and really contemplate a revolutionary New Year's resolution, and that is 100% OK. New year's resolutions 2018: 15 ideas for setting goals in the new year has you covered. This article has 15 solid goals that you can use for yourself at home or at the office.
That's all for this week. Thanks for checking out our series! I hope you learned something new and now have the tools to accomplish those goals!
Have a great rest of the week!
Stefani