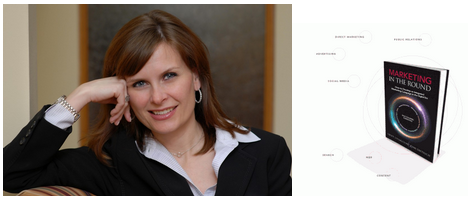 This week on Young PR Pros Julia Kent and I are joined by the co-author of Marketing in the Round, SpinSucks.com creator, and communications and marketing super woman, Gini Dietrich.
I first met Gini through the sound of her voice as I produced my very first Inside PR podcast.
For the past year and a half as a producer, I have been able to listen to Gini's insights, opinions, knowledge, and occasionally her dog Jack will stick in a few words. Although those frequent words from Jack have been wise, I have learned so much Gini.
Gini is one of those women that give a young professional woman like me a person to look up to.
Over the past two years, she has built a large online following at her blog, Spin Sucks. She has launched Spin Sucks Pro as a platform for marketing expertise tailored to the needs of senior executives. As I mentioned before, she is a co-host on the Inside PR podcast. And she manages to hold down a day job as CEO of Arment Dietrich.
With all this on the go, Gini found the time to co-author with Geoff Livingston a book that every contemporary marketer should read: Marketing in the Round, a practical guide to integrating the traditional and new tools of marketing into a coherent, effective whole.
We caught up with Gini at Third Tuesday Ottawa on July 24 to talk about how young professionals can build an online following, increase engagement on your blog, and her advice for young professionals.
This is a must listen to episode!
We want to hear from you. Do you have a question for Gini? Or, do you have an idea for an episode? Leave us a comment below or send us an email at youngprpros@gmail.com, or send us a message on Twitter @youngprpros, @kristinesimpson or @kentjulia.