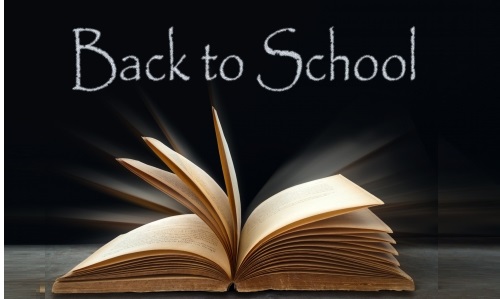 Some studies show that your first week back at school can determine the success of your school year. Make this time count by getting organized and setting meaningful goals.
Young PR Pros hosts Kristine D'Arbelles and Julia Kent share their tips and advice for a successful first few weeks back at school.
1. Get organized
Centennial College says it best: "Perhaps, all of your problems can be solved if you had an agenda. It can help you become more organized, have better time management skills, and help decrease procrastination."
Wether your agenda is on your phone, on paper or on your computer, keeping an agenda can really help you stay organized. In the PR and communications industry, our personal and professional lives tend to meld into one. It is important to include all personal and professional deadlines in one area. Separating them can lead to double booking yourself or missing deadlines.
Julia swore by her agenda in university, and she still does today. In university, she even wrote in fake deadlines in her agenda to force her to get assignments done long before they were due.
Whatever your trick is, the PR and communications industry is busy and fast pace. Don't miss a beat and keep your agenda organized.
2. Write
Writing is one of the most sought after skills in the PR and communications industry. At Fleishman-Hillard, an internationally renowned PR agency, every candidate interviewed must take a writing test which along with personal interviews help determine a candidate's creativity, attention to detail, organization and strategy, says Beth Ward, regional talent recruiter at Fleishman Hillard.
The first step to building your writings skill is to ensure you learn about English grammar. Can you tell a pronoun from a participle; use commas correctly in long sentences; describe the difference between its and it's? If you a little rusty, pick up the CP Guide – a PR and communications professional's bible – and brush up on your grammar.
If you are a self-proclaimed grammar God, then take some time to exercise your creative brain. This can be done by keeping a journal, or writing short stories. According to Kristine, one of the worst things that can happen to a PR professional on deadline is writers block. Keep your imaginative brain well trained to ensure a continuous flow of creativity.
3. Read to be cultured
Read a Harlequin romance. What? Why? You may ask. Harlequin Enterprises Limited is a Toronto-based company that publishes a series of romance novels. Harlequin publishes approximately 120 new titles each month in 29 different languages in 107 international markets on six continents. The company reported sales of 131 million books in 2006.
You might still be shaking your head. Why should you read a Harlequin romance? Because numbers don't lie. There are millions of people around the world reading these books, which means some of these readers will one day most likely be part of your communications audience. How do you expect to communicate a compelling message to your audience, if you don't understand them?
Now, this doesn't mean you should base all your communications messages and tactics on steamy and dramatic love stories. Instead, put yourself in the authors shoes and picture the audience you are writing for. In other words, reverse engineer these books to figure out who you might one day communicate to.
This tip might change a bit depending on what part of the world you work and live in. Reach out to a mentor, or read the life section of newspapers to find out what pop culture books are making stamps on your society.
4. Put Extra-Curricular Activities Before Grades
Both Kristine and Julia have never been asked to reveal their university marks, nor have they ever been asked to provide a copy of their degree. So relax, take a few breaths, that pop quiz you failed won't come back to haunt you.
A study of 500 employers found that, when hiring graduates, almost half of employers were looking for – in order of importance – relevant work experience, a good work ethic and a degree subject relevant to the job. However, only one in four employers was interested in the class of degree, while even fewer were worried about a university's reputation.
To clarify, this does not mean Young PR Pros is encouraging you to pack your bags, drop out of school and sail around the world doing dishes on some yacht. What this report is showing is that experience can help you find a job, albeit most PR and communications jobs require at least a PR diploma.
If you want to catch the eye of a prospective employer right out of school, talk about your relevant work experience and any extra-curricular activities that have contributed to your PR skills.
As long as she wasn't failing her classes, Kristine said she would sacrifice a few grade points any day for the experience she received volunteering and doing extra-curricular activities in college.
Do you have anything to add?
We want to hear from you. What are your back-to-school rituals you follow to keep your PR and communications skills sharp? Leave a comment below on the blog and you might even be featured in a future Young PR Pros episodes.